Name.·• Telle Trueblade
Nicknames.·•
Age.·• 24
Gender.·• Female
Status.·• Alive
height ;;;
weight ;;;
build ;;;
hair ;;; Black
eyes ;;; Green
body art ;;;
specific features ;;;
clothing style ;;; Robes
picture(s) ;;;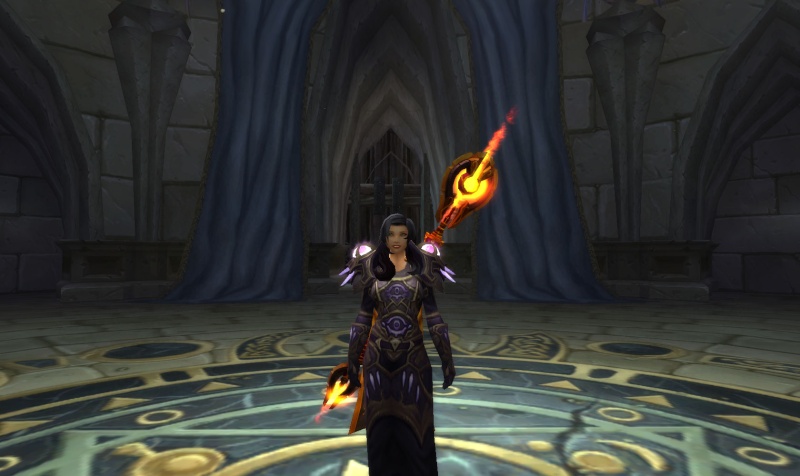 overall physical description +--
likes``~ To help out people in need
dislikes``~ When people don't listen to her
strengths``~
weaknesses``~ Her love for others
habits/quirks``~
fears``~ Being controlled
dreams``~
goals``~
secrets``~
overall personality description +--
(¯`mother·._ Relleira Trueblade (High Elf)
(¯`father·._ Atrix Trueblade (Human)
(¯`close siblings·._ Jael Trueblade (Twin Brother)
(¯`others·._ Ecrosetis (Grandfather), Chromonotos (Great-grandfather), Auroraza (Aunt)
Bira Nightstrider (Grandmother), Vnosterian Nightstrider (Grandfather)
history +-- Telle is the daughter of Atrix and Relleira Trueblade and the twin sister to Jael Trueblade. After the her mother's second death, her grandfather, Ecrosetis, took her to live and train with the Dalaran mages. When Telle began to be raised by her mother, she went to Dalaran everyday to train. Telle spent most of her life in Dalaran while her mother trained her brother. After her mother's death as a dark ranger, she went to stay with her brother in Nightstrider Sanctum. When Telle's grandfather gave her her mother's memory necklace, her mother began appearing to her as a ghost. After the battle between Ecrosetis and Aethir, Telle said goodbye to her mother who finally left the world of Azeroth. After her training, Telle was one of the finest mages Dalaran had ever seen and she was choosen to become part of the renewed Council of Tirisfal. Telle now trains the new Guardian and every now and then she looks back on her mother's memories with her mother's memory necklace.
Just recently, Telle's father returned and she was so happy to see him alive, but she felt bad for Jael since he was always looked down upon. Her father wanted to teach her brother the ways of a Trueblade warrior, but Telle wouldn't allow and she tried to stop her father. Jael was in the Storm Peaks when his father came after him and she tried to top her father from giving Jael the Trueblade rage. When trying to do that she was blown off the side of the peaks knocked out, but then she was caught by a gryphon and was carried to saftey. When she woke up, she was in a cave with a fire going and a dwarf was sitting there. The dwarf's name was Duramin, the dwarf that Telle's mother considered her brother. Telle was happy to finally meet him since she had heard so much about him. Telle did not stay too long, but every once and awhile she goes and sees Duramin.
With the events that have happened, Telle seeks to cleanse the Council of Tirisfal of corruption for most members became corrupt by the Old God, U'cun. With the discovery of her mother still alive because of U'cun, Telle offered her mother back the memory necklace, but Relliera refused.